Check out the new section on the 150th Anniversary of the Periodic Table, created in 1869 by Dmitri Mendeleev! Follow the "Exhibit and More" drop-down menu.
Now that the centennial exhibit display at the Herbert D. Doan Midland County History Center is over, Midland ACS is providing several versions of the exhibit for those who did not get a chance to visit, wish to revisit a particular part, or might be interested in hosting all or part of it.
For a display of exhibit graphics, click HERE.
For a video tour of the exhibit as it appeared up to mid-July, 2019, click HERE.
For detailed exhibit photos as of September, 2019, click HERE.
Lapel Pins From the Midland ACS Centennial and 50th CERM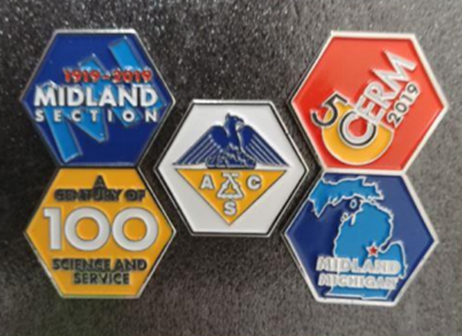 Shown above are 2019 centennial year pins, designed by John Metcalf, commemorating our 100-year anniversary and exhibit, and the 50th Central Regional ACS Meeting held in Midland.