Now that the centennial exhibit display at the Herbert D. Doan Midland County History Center is over, Midland ACS is providing several versions of the exhibit for those who did not get a chance to visit, wish to revisit a particular part, or might be interested in hosting all or part of it.
For a display of exhibit graphics, click HERE.
For a video tour of the exhibit as it appeared up to mid-July, 2019, click HERE.
For detailed exhibit photos as of September, 2019, click HERE.
Lapel Pins Are Available for Centennial and 50th CERM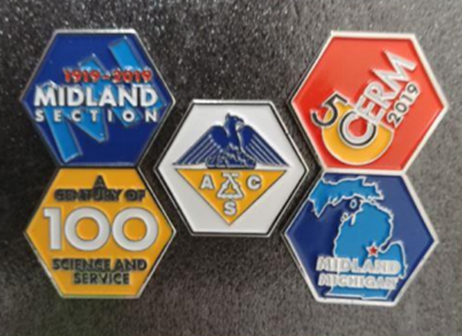 To commemorate this significant year in Midland ACS history, three sets of pins are available for purchase. The pins are metal with an enamel finish, and are 1 inch by 1 inch in dimension. The single ACS logo pin is $3.00, the double logo pins are $5.00, or purchase the complete set for $12.00. Proceeds will aid in funding for the centennial exhibit and related educational programs in 2019. Contact Gina Malczewski at reginamalczewski@gmail.com for more information or to purchase your pins.