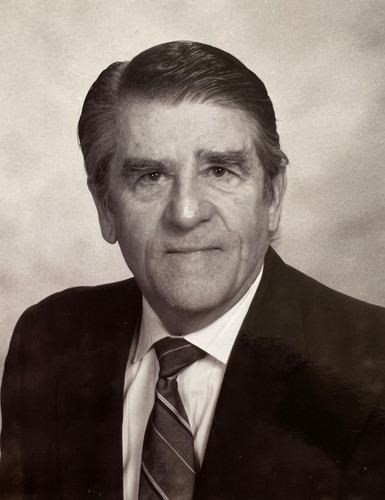 Dr. Dale Meier (Apr 21, 1922 – March 12, 2022) was born in The Dalles, OR. As a child in Los Angeles, Dale learned to love outdoor pursuits during his family's visits to a cabin near Dillard, OR. He attended the California Institute of Technology (CalTech) until 1942, when he volunteered to serve in WWII. An account of some of his service can be found at https://www.ourmidland.com/news/article/Meier-details-experience-7104540.php
After the war Dale continued his studies, finally obtaining a PhD in Chemistry from UCLA.
Dale married Helen Ledin in 1948, and they had two children. Dale moved to San Francisco to work for Shell Development Company, and over the next several years he lived in the Netherlands and in LA. He moved to Midland, MI upon accepting a position as senior polymer research scientist at the newly formed "Midland Macromolecular institute" (MMI) in 1972. He was also a professor and program manager at MMI, which became Michigan Molecular Institute and is now the location of Michigan State University St. Andrews in Midland. Over his career he published 90 research papers, 46 patents, and two books on topics related to polymer physics, block copolymers, silicone chemistry, polymer rheology and inorganic and colloid chemistry.    
Dale served as the General Chair of the Midland Section ACS Fall Scientific Meeting in 2007, during one of the years when that meeting was held at the Midland Center for the Arts. The Midland Section also honored Dale with two of its prestigious awards: the Outstanding Achievement and Promotion of the Chemical Sciences Award in 1993 and the Outstanding College Chemistry Teaching Award in 2003. In 2007 he received the 2007 Chemistry of Thermoplastic Elastomers Award from Advanced Elastomers Systems.
In retirement, Dale enjoyed fly fishing and gardening and excelled in woodworking. Besides exhibiting his pieces at the Midland Center for the Arts, Northwood Gallery and Creative 360, he also contributed a work to the silent auction fundraiser held for the ACS centennial exhibit in 2018. He played handball and enjoyed roller blading on the Rail Trail well into his eighties.
A tribute from Steve Keinath, a colleague at MMI:
I had the privilege of working with and around Dale for many years as a member of the scientific technical staff of the Michigan Molecular Institute, sometimes directly involved in joint research projects with him spanning multiple years depending on the length of a project's external funding. In addition, Dale taught a number of graduate level polymer science courses back in the day when MMI was doing polymer science teaching, and it was my good fortune to sit in on essentially all of Dale's courses. The breadth and depth of my formal polymer science training and understanding was considerably expanded by Dale's teaching and mentoring over the years. He was always very well-prepared for his lectures and always had many interesting, first-hand stories to share that kept his lectures interesting and relevant. He was a consummate old-school professional, dressing in a jacket and tie pretty much the entire MMI career over which I knew Dale.