The Midland ACS organized and sponsored a variety of events throughout the years in the area. Only a few of the more recent events are listed here. If you want to get involved in future events contact the Midland Section of the ACS and follow the Facebook page. You do not want to miss out!!!
2019
In the spirit of March Madness, we hosted our competitive tournament! In #PeriodicPlayoff participants voted which element would "defeat" the other elements in a tournament style playoff. Many people submitted their bracket predictions for a chance to win a prize and a fun time was had by all.
ACS members and CMU students and faculty met on Friday March 15th in continued preparation for the opening of the Midland Section Centennial Exhibit. They are working their hardest to prepare a quality and enjoyable exhibit for you this year!!
On Thursday March 14th at the Chippewa Nature Center interpretive naturalist Michelle Fournier lead a group through sap and syrup production at the Science Cafe "The Science of Syrup." Participants worked together to tap a tree, collect sap, and work through the process of turning sap into syrup!
February 26th Midland ACS members and the Mid-Michigan Technicians Group went to Delta College where they were greeted by a room full of chemistry students for Program-In-a-Box (PIB) "The Evolving Periodic Table!" A great time was had by all! #IYPT2019 #ACSPIB.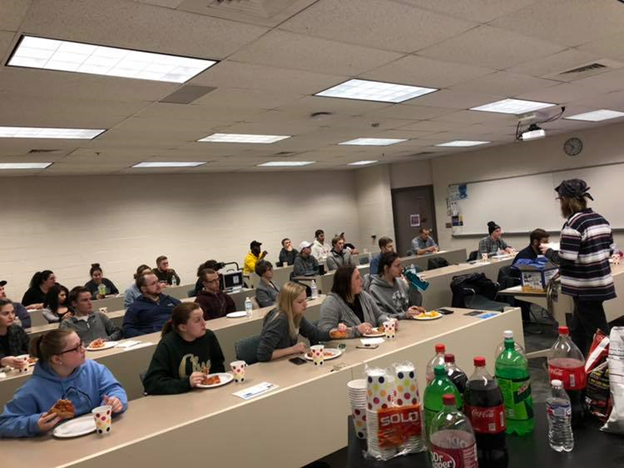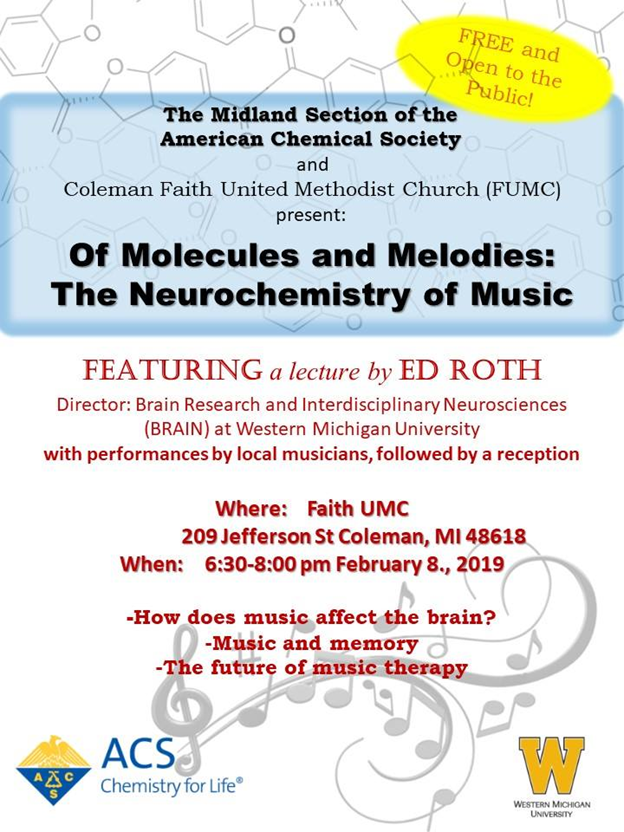 Kids Day at the Midland Mall was held on January 26th this year! ACS members talked about and demonstrated a variety of awesome things about chemistry. Chemistry is Out of This World!!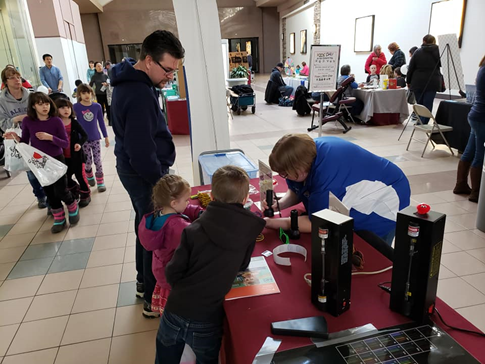 2018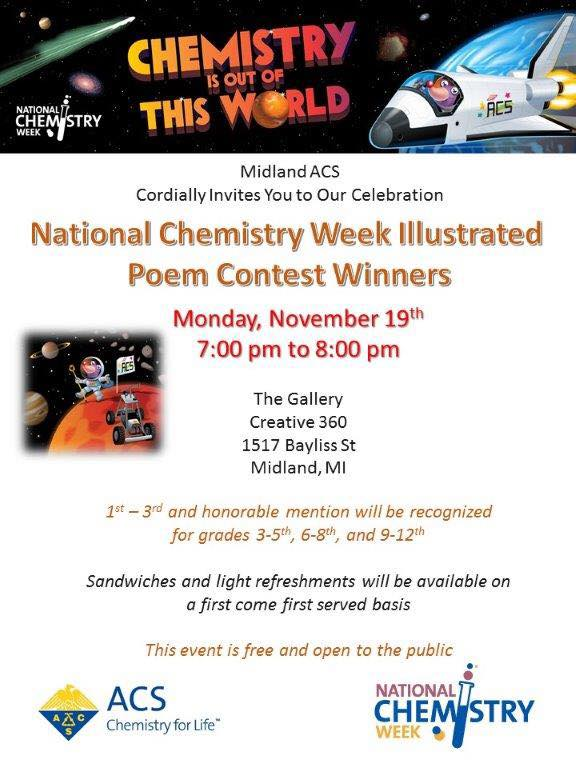 Summer interns at Michigan State Univeristy on October 19, 2018 participated in The Midland Section of the American Chemical Society poster session. The Midland ACS was thrilled to have such sharp young minds present the amazing research they are doing!
The Fall Scientific Meeting occurred on October 13th with keynote speaker Dr. Allison Steiner highlighting the event. Great job Dr. Steiner and we hope to see you all at the next Fall Scientific Meeting in the Fall of 2019.
Putting the "wow" in science, technology, engineering and math (STEM) is what the S.T.E.M. Festival is all about! Most of the event was free and open to the public with any 6th-8th graders welcomed. Attendance was good but the knowledge was better. Good luck to our future chemists!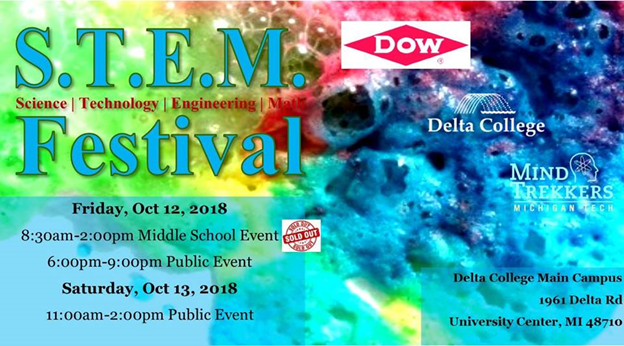 Calling all Past and Future Volunteers! Midland ACS Board members, Committee Chairs and Kids and Chemistry Outreach volunteers are cordially invited to a night of celebration of achievement and service! All 2018 volunteers will be honored. Dinner and drinks will be provided. RSVP using the ticket link or go to Midland ACS home page and sign up via the SignUpGenius link.
Our annual ACS day at the Midland County Fair was a hit once again! Any members from the Midland ACS, MMTG, and YCC were welcomed to join in receiving free hotdogs, chips, popcorn, cotton candy, and drinks. Ride tickets were even discounted! Don't miss out on this opportunity next summer!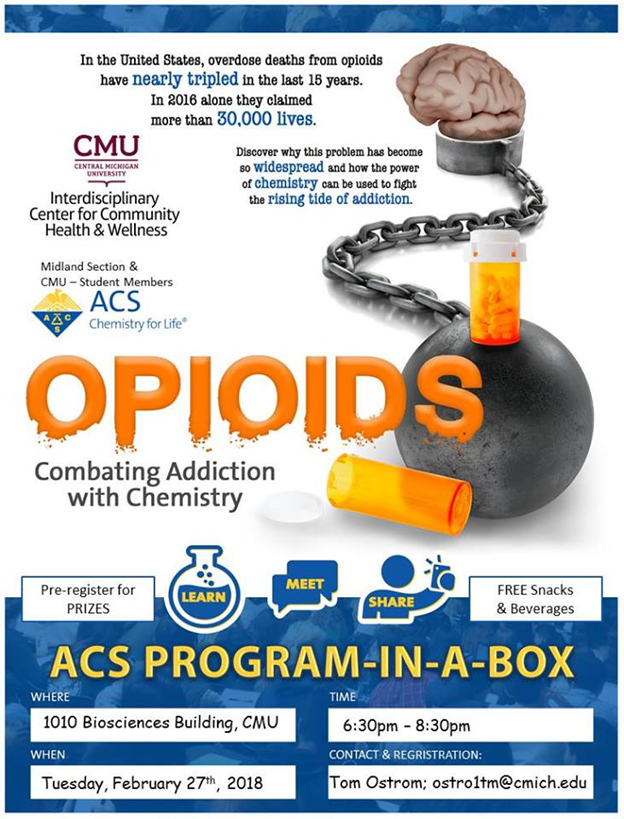 2017
Midland ACS sponsored "How to Make a Perfect Cup of Coffee" hosted by Live Oak Coffeehouse and the Younger Chemists Committee of the American Chemical Society on May 20, 2017. The group roasted and brewed their own coffee, learning the art and science behind what truly makes a perfect cup of coffee. Differences between beans, roasting techniques, and brewing methods. It was a can't miss event for coffee lovers so ask your friends what you missed if you could not attend!